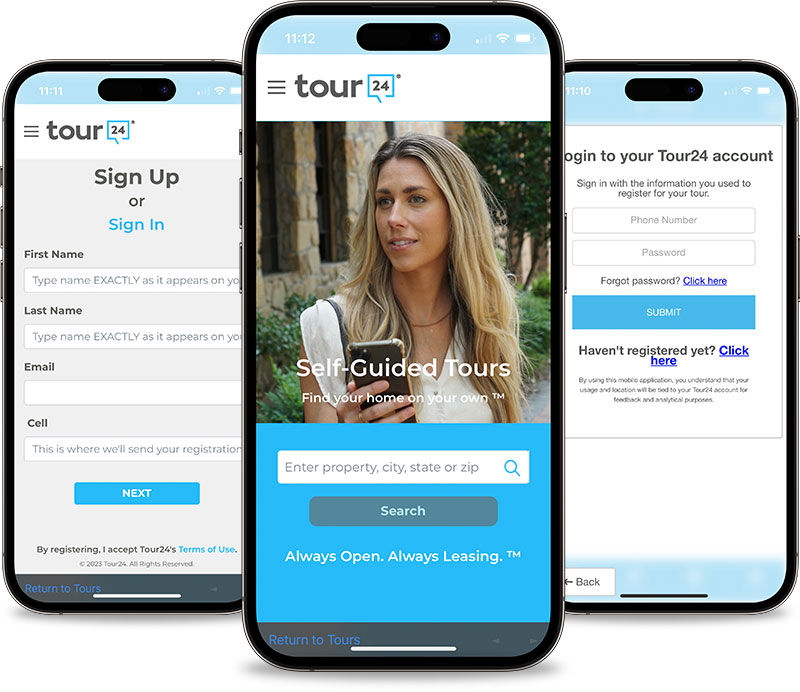 Seamless and Secure Solution for Self-Guided Smart Tours
We partner with multifamily owners, operators, and major proptech partners to control the chaos of a busy leasing office through trusted, proven self-guided tour technology.
We elevate tours to lease conversions by keeping leasing offices open – after hours and on the weekends or when leasing agents are unavailable – to deliver property tours and maximize on NOI (net operating income).
"There were many people that viewed the property with Tour24 and actually applied without even contacting our office and got approved."
Christina Hayes
Leasing Manager at RangeWater Real Estate
"We've continued to see Tour24 become an extension of our team."
Tim Johnson
Vice President of Asset Operations at ECI Group
"Tour24 gives us a massive advantage from the very first time a prospect reaches out to us."
Amanda Johnson
Vice President of Marketing at AMLI
"Tour24 bridges the gap by offering property tours seven days a week."
James Losik
Director of Sales and Leasing at Draper & Kramer
"Tour24 has proven their worth as a critical tool in our leasing toolkit and they are a valuable part of our strategy for continued growth and success."
Tim Johnson
Vice President of Asset Operations at ECI Group
"Self-guided tours are the future. Tour24 offers the most capabilities. We've had a really positive experience working with their product and their team."
Scott Villani
Chief Strategy Officer at the NRP Group
"We beat up our leasing projections because of Tour24. I wouldn't lease any community without it. You're always putting your best foot forward with Tour24."
David Meit
Principal at Oculus
"Tour24 has been like our third leasing agent when we are short-staffed and team members are taking vacation. It's been a huge benefit to our team."
Nicole Hughes
Regional Property Manager at LCOR
"Our first couple of months on Tour24 has been great! Offering an option for prospects to tour when we are closed has significantly increased our traffic. We are now seeing 30% of total traffic coming through Tour24."
Christopher Houlding
Regional Property Manager at Vantage Management
Custom Self-Guided Tours That Drive Revenues for Property Owners
We work with multifamily operators throughout the US to deliver the best experience for leasing agents and prospective renters.
We can open any door. Truly easy access means more traffic, more tours, and more leases.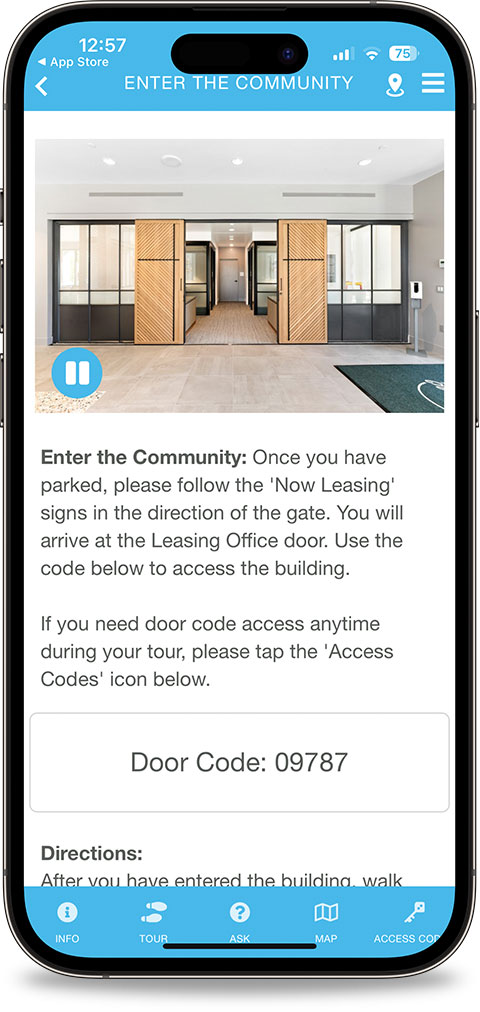 With a custom tour guide, custom audio (multiple languages available), wayfinder, and active feedback – increasing closing rates.
Prospects can see properties at their convenience and sign leases in a matter of minutes.
Tour24 is proud to offer the most comprehensive solution on the market, providing partners with high-quality, consistent coverage.